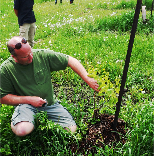 Organic Breezy Hill is open Saturdays and Sundays through the end of October 2020 (Open Friday, Oct 16th). Come out for a walk around the orchards, pre-picked apples in small & large quantities.
**Pumpkins/winter squash while they last.
OBH is Respectful of Social Distancing & Following COVID 19 CDC Guidelines. We Offer a Safe Orchard to Visit and Share With Your Family and Friends.
Open

Friday

through

Sunday:

10:00 AM to

6

:00 PM
EMAIL US with questions, baking/cooking apple orders, and special requests
The Cooking/Baking apples are here. Slightly blemished, mid-large sized apples, available in 25 lbs boxes for $15.00.
Pre-Order by email or sign-up for a box of store quality Regent and/or Keepsake apples that are ready the weekend of Oct 16th.