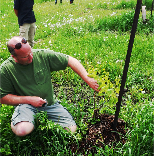 Spring 2021: NOW Honeycrisp andTriump Trees For Sale at the Farm.
The 2021 Fruit/Veggie Season Kicks Off in May/June With Rhubarb and Asparagus
OBH is Respectful of Social Distancing & Following COVID 19 CDC Guidelines. We Offer a Safe Orchard to Visit and Share With Your Family and Friends.
2021 Season Coming Soon
May/June Begin with Rhubarb and Asparagus.
Late June/Early July: Tart Cherries