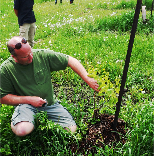 The 2020 season is wrapping up. Small and large quantities of Regent and Keepsake apples available for purchase from the farm. Stop by for a box by Thanksgiving.
We enjoyed meeting everyone this year. Thank you for a successful season.
OBH is Respectful of Social Distancing & Following COVID 19 CDC Guidelines. We Offer a Safe Orchard to Visit and Share With Your Family and Friends.
Open by appointment (email/call) to pick up apples.
Store Quality 25 lbs of Regent ($30.00) & Keepsake ($50.00) Apples Available for Pick Up. These Apples Stay Fresh for Months.