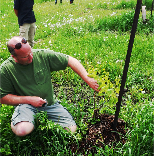 Organic Breezy Hill is open daily from August 24th through October 18th. Pears, Apples, Raspberries, Tomatoes, Winter Squash, & Pumpkins This Year.
OBH is Respectful of Social Distancing & Following COVID 19 CDC Guidelines. We Offer a Safe Orchard to Visit and Share With Your Family and Friends. Get On the OBH Newsletter by Going to the Contact Page or Email Us. Open Daily Starting August 24th.
Monday through Thursday: 10:00 AM to 4:00 PM
Friday through Sunday: 10:00 AM to 6:00 PM
EMAIL US with questions, baking/cooking apple orders, and special requests
The Cooking/Baking apples are here. Slightly blemished, mid-large sized apples, available in 25 lbs boxes for $15.00.
Pre-Order by email or sign-up for a box of store quality Regent and/or Keepsake apples.